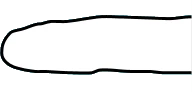 A historic home makeover.
David and Juliana Maziarz moved into a historic Los Angeles home and immediately began saving to make upgrades. However, their home's poor heating and cooling system and excessive dust from a lack of insulation and sealing made it impossible for David to work from home. They contacted a local certified contractor for a consultation.
Attic insulation
Whole building air seal
Low-flow shower-head
Faucets
Duct sealing
Windows
Central gas furnace
Garage roof gutters*
Thanks to GoGreen Home Energy Financing, the Maziarz family was able to make all the desired upgrades to their historic home without breaking the bank, and now David can work from home comfortably.
*Nonenergy efficiency measure.
"GoGreen Home allowed us to make all of the upgrades at once." - Juliana Maziarz
Total Project Cost: $34,323.58
Interest Rate: 6.88% APR
GoGreen Home Loan: $34,323.58
Monthly Payment: $307.01