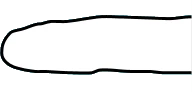 Frequently asked questions.
Find answers by narrowing down property types using the filters below.
Submit a completed application with proof of liability insurance and take the one-hour online training. Get started by visiting the
Contractor Partners
page.
GoGreen Home projects must comply with local permitting requirements. Please contact your local permitting authority to determine if your project requires a permit.
Yes, every project's paperwork (submitted invoice, certificate of completion, completed permits, safety test results, etc.) will be reviewed to ensure compliance with state and GoGreen Home regulations. For a smaller portion of projects, field verifications may be conducted at the property within 180 days of the loan being enrolled to verify that the eligible measures were installed according to program regulations.
Interest rates vary by lender and are based on the length of the term and/or the borrower's credit history. All lenders have reduced their interest rates in exchange for the benefits provided to them by the GoGreen Home program. Current rates can be found on the
GoGreen Home Energy Financing Lending Options
chart or through the interactive module on the
Find Finance Options
page. The maximum interest rate for GoGreen Home loans is capped at the interest rate on new 10-year Treasury bonds plus 750 basis points (which is equal to 7.5%). For example, if the interest rate on the new 10-year Treasury bond is 3%, then the interest rate on GoGreen Home loans cannot exceed 10.5% (3% + 7.5%).
Any measure listed on the
Eligible Energy Efficiency Measures
table may be financed through GoGreen Home as long as it meets the stated efficiency requirements (for example, ENERGY STAR certified or Title 24). Expenses that are legally and practically necessary to complete the installation of an energy efficiency measure can also be included—things like permits, safety testing, electrical panel upgrades and patching. Additionally, 30% of the total financed amount can be used for home improvements not related to energy efficiency, such as remodeling and landscaping.
Please note: As of November 4, 2023, Cool Roof financing projects are available ONLY for customers
who receive electricity from PG&E, SCE or SDG&E.
Not at this time. GoGreen Home prioritizes energy reduction (through energy efficiency) over energy production, so the loans are strictly for upgrades that reduce energy use. However, some participating lenders may offer financing for solar projects separately from GoGreen Home, with different terms.
GoGreen Home
customers may upgrade a single-family home, townhome, condo, duplex, triplex, fourplex or manufactured home. Renovations for up to four units may be bundled into a single loan. The property must receive electric and/or gas service from any of the following investor-owned utilities: Pacific Gas and Electric Company, San Diego Gas & Electric Company, Southern California Edison, or Southern California Gas Company. Residents receiving electric and/or gas service from City of Palo Alto Utilities are also eligible. Affordable and market-rate multifamily properties of five or more units may be upgraded through
GoGreen Multifamily
.
No. GoGreen Home participating lenders make the loans. The California Alternative Energy and Advanced Transportation Financing Authority, a public agency in the State Treasurer's Office, facilitates the financing by providing GoGreen Home lenders with access to a "loan loss reserve"—basically a form of insurance that allows them to offer better rates and terms on GoGreen Home loans than on standard loan products. You can find participating GoGreen Home lenders on the interactive
Find Financing
page.
Most projects can be financed through GoGreen Home as long as it meets program guidelines and the property receives natural gas
and/or
electric service from one of the following investor-owned utilities (IOUs): Pacific Gas and Electric Company, San Diego Gas & Electric Company, Southern California Gas Company or Southern California Edison. In addition, CPAU customers are eligible even if the property doesn't receive gas from an IOU due to a separate funding partnership. *As of November 4, 2023, Cool Roof financing projects are no longer available for properties in publicly owned electric utility (POU) service areas such as SMUD, LADWP, City of Roseville, City of Glendale, etc.
View a full list of POUs
. Other electric upgrades including heat pump HVACs, heat pump water heaters, and induction ranges or cooktops are still eligible for financing for POU residential properties as long as the customer receives gas service from an IOU.
Explore project possibilities.
A homier home
Enhance your home's comfort by replacing outdated appliances, lighting, windows, and more.
View upgrades
Ready, set, upgrade
Take your business to the next level by replacing outdated or broken old equipment.
Discover options
A homier home

Enhance your home's comfort by replacing outdated appliances, lighting, windows, and more.

View upgrades

Ready, set, upgrade

Take your business to the next level by replacing outdated or broken old equipment.

Discover options