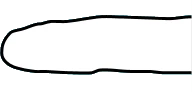 Lower bills. Greater comfort.
The Flores household faced an inefficient water heater that was adding significantly to their utility bills. To save energy and improve hot water distribution, a local contractor recommended a tankless water heater and other energy-efficient upgrades.
High-efficiency furnace
Smart thermostat
Tankless water heater
Water filtration*
Heat pump
Thanks to the energy-efficient upgrades provided by GoGreen Home Energy Financing, the Flores family has been able to make significant improvements to their home while staying within their monthly budget. Jesse Flores is now pleased with the performance of the new water heater and appliances, and he is looking forward to lower utility bills in the months to come.
*Nonenergy efficiency measure.
Total Project Cost: $15,906
Interest Rate: 7.38% APR
GoGreen Home Loan: $15,906
Monthly Payment: $146.76